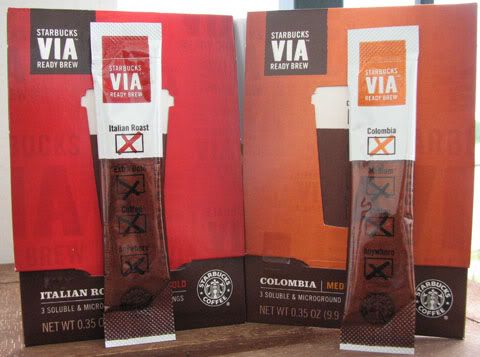 I usually don't care for instant coffee very much. It just doesn't have the save flavor as freshly brewed coffee. The only time I even use instant coffee if I am making a coffee based ice cream.
Today,
Starbucks Coffee
has released nationally their version of instant coffee, Starbucks Via. Via comes in two varieties, Columbia and Italian Roast. Via is different from other instant coffee in that instead of being freeze dried crystals, it is whole beans ground into a very fine grind that Starbucks calls "microgrind." Starbucks is convinced that you won't be able to tell the difference between Via and their regular brewed coffee that they will be having a taste test this weekend at participating stores.
I was fortunate enough to be given a sample of the Columbia Via at work today. I have to say, that compared to other instant coffees, Via is definitely a better brew. The taste was very close to the taste of the their drip coffees that I have. So, if you like Starbucks drip coffees, the Via is an acceptable brew in my humble opinion. However, like all things Starbucks, it is a bit on the pricey side. A three pack of Via is expected to retail for $2.95, and a box of 12 for $9.95. I little more than I am willing to pay since I can buy a can of ground coffee that will last a little more than a week for the same price as three cups of Via.