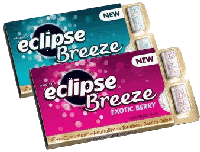 I have a pretty cool job. Each of the last two years, I have been able to attend the
All Candy Expo
in Chicago. There, I get to see all sorts of different types of candies and snacks. In my dealings with different manufacturers, I get to try all sorts of new products.
One of the more recent items that I have gotten to try is a new chewing gum from the
Wrigley Company
. They have introduced two new varieties of their Eclipse chewing gum; Eclipse Breeze Exotic Berry and Exotic Mint. The thing that makes these gums different from other gums that I have tried is that they contain the spice Cardamom.
Cardamom is used as both an spice and flavoring in cooking and as an herbal medicine. As an ingredient it is used primarily as a spice in Indian food. In medicine, it is used to treat infections in the mouth and gums and as a breath freshener.
The cardamom gives these two gums a unique flavor that has a spicy and herbal taste. The flavor lasts a long time and leaves you with a fresh taste in your mouth. It is probably safe to say that the cardamom flavor isn't for everyone, but I enjoyed it. Give it a try and let me know what you think.