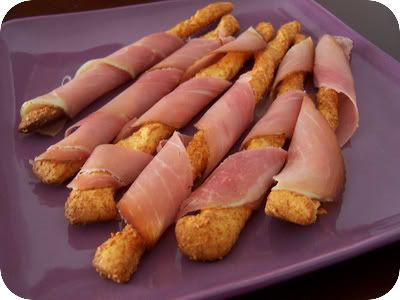 My family watches the
Food Network
on a regular basis. My 15 year old autistic son is particularly fond of the competition shows like
Iron Chef America
. My wife is constantly looking for new recipes to try out on me to change up our daily meals.
One of the recipes that she had found was a
Prosciutto-Wrapped Breadsticks
from Giada de Laurentiis. The dish is really intended to be an appetizer. My wife would occasionally make it whenever she would fix a spaghetti dinner for us. Every time she did, I would comment that I could have it as a meal with a salad. Last week she made them with a ceasar salad for dinner.
The breadsticks are fairly easy to make. The only ingredients needed are a can of refrigerated breadstick dough, grated parmesan cheese, and sliced prosciutto. You take each strip of dough and roll it in the parmesan cheese. Then you twist the dough into sticks. Wrap each breadstick in a slice of prosciutto and bake in the oven at 350 degrees for 20 minutes or golden brown. They are simply delicious.