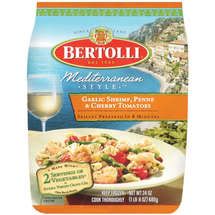 Here is another dinner for two that I recently found in the frozen food section of the grocery store. Like I said previously, the quality and variety of frozen food that is available these days continues to improve. It is so quick and easy to get a high quality meal to the table.
Bertolli Mediteranean Style Garlic Shrimp, Penne & Cherry Tomatoes is one such meal. The dish consists of penne pasta, shrimp, asparagus, and cherry tomatoes in a light and tasty garlic sauce. All it takes is about 8 minutes in a skillet and dinner is ready to be served. I have tried other garlic shrimp dishes, but this one is my new favorite. I really enjoy the tang that the cherry tomatoes add to it.
Bertolli has developed several different frozen entrees. Some are skillet meals like the garlic shrimp, and others are oven baked dinner kits. You can go to their
website
to see the wide variety they have available. While there, you can print a coupon good for $1 off any Bertolli frozen meal.